| | |
| --- | --- |
| Posted on February 6, 2014 at 7:00 PM | |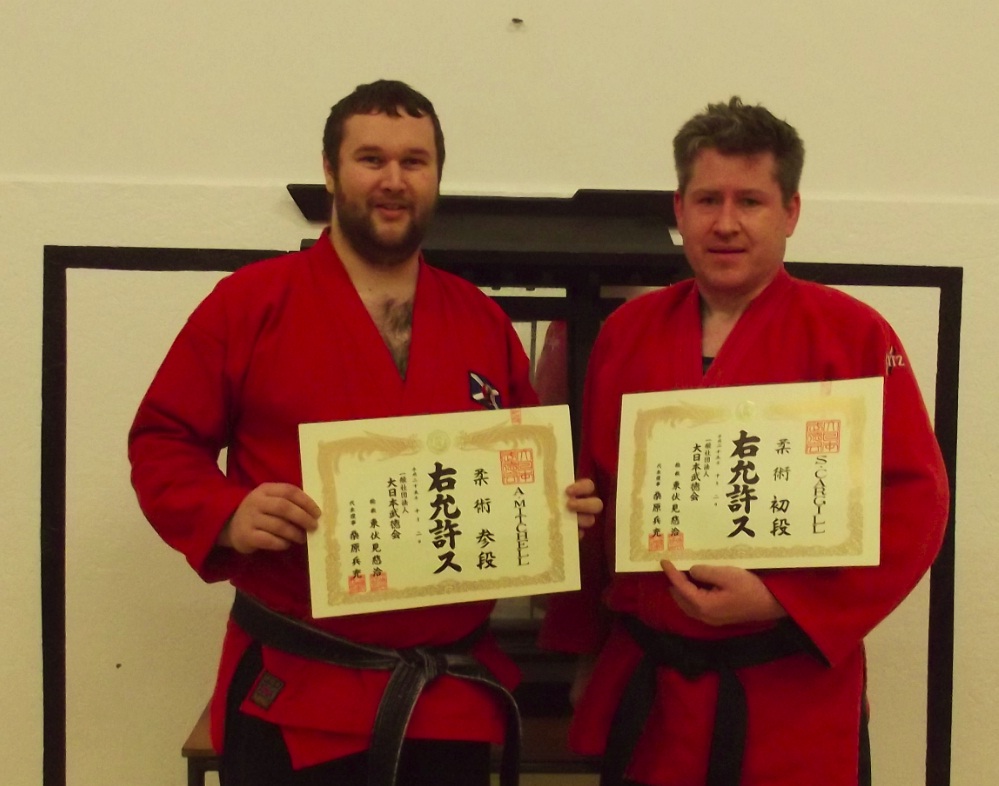 .
Menjo Certificates from DNBK (Japan)
.
We have recently been informed that the Two Scottish Fighting Arts Society Instructors that represented Scotland at the recent Dai Nippon Butoku Kai event in London last August have been recognised and presented with ranks in the art of Jujutsu. The Menjo (certificates of rank) are issued with the Official DNBK Stamp. The Menjo are stamped and signed by His Royal Highness Sosai (Governor), Higashifushimi, Jigo - Former Duke, Brother to Empress Kotaigo of Emperor Hirohito, Governor of the Dai Nippon Butoku Kai for more than six decades, a former chief abbot of Shorenin Temple and brother to Empress Kotaigo of Showa Emperor Hirohito of Japan. They are also stamped and signed by Kuwahara, Hanshi Judan Jujutsu - President of the Board of Directors for the DNBK. It is also worth noting Kuwahara, Hanshi is the only 10th Dan in the DNBK and with be the last 10th Dan Issued by them in Japan. Sensei Alan Mitchell had the honour or being an Uki while he demonstrated a technique to Sempai Steve Cargill and c couple of other Jujutsu-ka during the DNBK World Butoku Sai in London 2013. The techniques were brilliantly executed and indeed he is an inspiration to us all.
It is with deep sadness that we also have been told that His Royal Highness Sosai (Governor), Higashifushimi, Jigo aged 103, passed away in January 1st, 2014. This is very sad news. Our thoughts are turned even more to the whole DNBK family as we now understand the Menjo's received by Alan Mitchell - Sandan Jujutsu and Steven Cargill - Shodan Jujutsu were among the last batch he officially stamped and signed as part of his DNBK duties before he passed away. May his sprit live on through everyone whom is a part of the DNBK and congratulations to both Alan and Steven on their achievement.